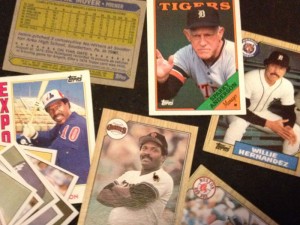 Tonight was the eve of the Major League opener, another summer of baseball and 162 games of regular season baseball finally beginning to commence again.
Last season's champs, the St. Louis Cardinals, took on a relocated team playing in a brand new ballpark, Miami's Marlins Field. A fresh start for all of us, and yet time-honored tradition and nostalgia filled the Florida air.
The game started and the visiting team took the early lead, playing the game within a game that I have grown to love. Long summer nights were spent in Algonac, Michigan, where my mother was raised and where we would visit my grandparents, many weekends in my youth spent reeling in perch and bluegill by day and personally retreating to close of the weekend game, overhearing the revelry of my elders by night, as they would sit around the dining room table taking turns dealing cards in another game that I barely knew and never mastered; they call it Pinochle, and to this day the fundamentals of its scoring and strategy elude me.  But those evening baseball scores captivated me entirely.
And in 1984, we were blessed that summer with a truly tremendous team in the Detroit Tigers.  I can still recall with absolute clarity the opening sequence against the San Diego Padres, and Kirk Gibson's inside-the-park home run, racing to third base on a ball hit into the corner, and an errant throw which sent him rounding the plate to home plate.
But tonight, the familiar chorus of baseball and the fresh start of a new season drew me home.  Not entirely focused on the play by play action, mind you.  I knew the opening game of the 2012 season was in progress and for the first hour I was preoccupied from turning my full attention to it.  I turned the game on to find out the Cardinals were ahead 3-0.  Sufficient for an update, but later and seven full innings into the first game of the season, the visiting pitcher had kept the home team from connecting for its first hit?  Now suddenly this was captivating.  Was it possible that a pitcher throw a no-hitter on opening day?  And had this ever happened in the hundred plus years of baseball tradition?  My imagination was preoccupied all over again with statistics and years of historical hardball legend.
Mind you, I read a book one summer on baseball trivia, and my life was possibly never the same.  And only one pitcher before had ever thrown the fabled no-hitter on opening day.
Do you remember your first your "dream job"?  The vocation which would never feel like a day of work, because you were living every day as if it were a constant joy, with none of the daily chore we so often find ourselves tasked?
For me growing up, my earliest dream was to be a baseball statistician.  And I mean that with utmost seriousness.  I entertained no goals of becoming a left-handed starting pitcher or the ace reliever for the Tigers, and short stop was always out of the question for a lefty like me.  No, there was really no question for a mathematically able yet athletically challenged kid like myself, statistician was the gift of my calling.
With my weekly allowance, I would bike down to our local 7-11 convenience store and buy packs of Topps and Dunlop baseball cards, hoping to unwrap a favorite player.  Several of which I have photographed here, including none other than Sparky Anderson, the manager of that '84 Tigers team, and their ace reliever, Willy Hernandez.
This season, I was invited to participate in a league of fantasy baseball (my first foray into the world of fantasy sports).  The departure of a previous fantasy manager afforded me the #1 overall draft pick, and try as I might to resist, the allure of Miguel Cabrera was simply too great.
Could it be that 2012 will once again be the Year of the Tiger?  God willing, I'll be watching tomorrow at 1pm as Detroit takes on the Boston Red Sox, and what will hopefully be the first win of another Dream Season.